Our director, Manuela Stamatović, has recently been appointed as an ambassador of the prestigious RE-FEM project, an initiative aimed at inspiring and supporting women interested in starting their own businesses.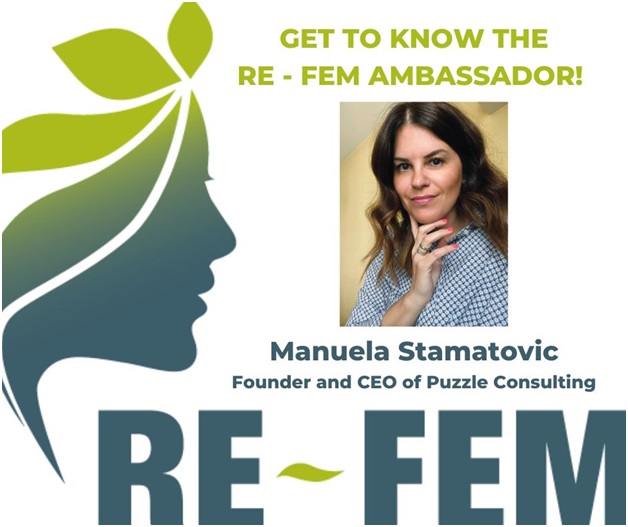 Through her role as an ambassador, Manuela will share her rich experience and personal entrepreneurship stories, with the goal of boosting the self-confidence of other women. In addition, she will promote overall female entrepreneurship, RE-FEM, its objectives and results, thereby contributing to the work of this important project.
Born in Switzerland, educated in Paris and Belgrade, our founder and director began her impressive career in large corporations, holding leading roles in marketing and communications for world-renowned brands. Today, already for five years, she has been proudly leading Puzzle Consulting, a company providing strategic consulting for micro, small, and medium enterprises in various business areas. Furthermore, she is a respected representative of the Association of Business Women in Serbia, the largest national organization for female entrepreneurs.
"I am happy and honored to have been chosen as an ambassador for the RE-FEM project," said Manuela. "I truly welcome every opportunity to support, promote, and encourage female entrepreneurship. I believe that continuous education and investment in professional and personal knowledge help us to become better managers, mentors, and friends. This thought guides me through all challenges, and I would love to inspire and support other trainers, mentors, and female entrepreneurs in achieving their ambitions and becoming the best versions of themselves."