Do I have the required skills and all the necessary data to operate effectively?
You would like to have somebody working tightly with your marketing team ensuring that they acquire all necessary skills? Or you are in need of made-to-measure workshops and mentoring programs in order to continuously foster your employees? How about optimizing your cooperation and coordination with your marketing agencies making sure they are performing according to set key performance indicators? And who is taking care of all the marketing and consumer data that you acquire through all the activities you are performing?
Working successfully with data and teams is something that can be part of your company's DNA and we can guide you on this journey! We can support you in data gathering and analysis, coordinate with agencies or lend your marketing team members a helping hand by simultaneously further honing their skill set. Just tell us what is on your mind and we can develop the right method or program to help you progress further, whilst supporting you on a daily basis.
Our consultancy services are custom-made to your specific requirements, no matter if you have a full-time marketing team or not. Just let us know what your challenges and goals are, and we can take over the rest and streamline execution and control.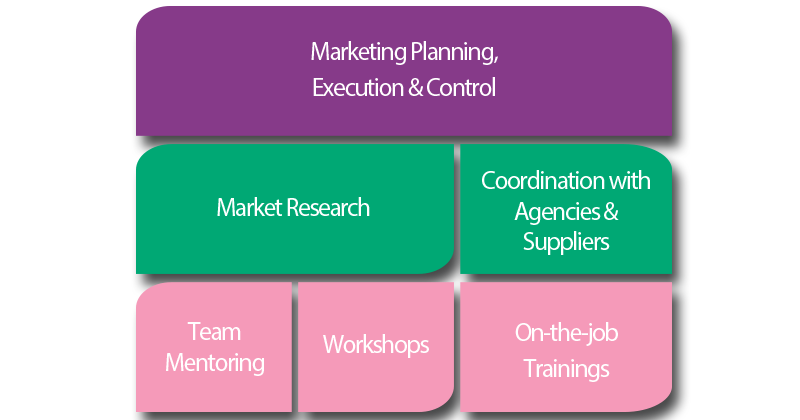 The EXECUTION & SUPPORT segment of our consultancy business is structured into the following parts:
Marketing Planning, Execution & Control
Marketing Research
Coordination with Agencies & Suppliers
Team Mentoring
Workshops
On-the-job Trainings
All these areas include key integral parts that are adapted and custom-made to your specific business challenges. They can cover all executional aspects that your business may require in the field of marketing and communications. Each situation and challenge are unique – together with you, we will develop and implement a tailor-made approach that will help you make your day-to-day as well as overall operations measurable and productive.
All you have to do is just to tell us what your plans, challenges and questions are. Based on your inputs, we will develop your individual services Puzzle that contains carefully selected parts of the above-mentioned areas. With that, we will able to develop your unique operational model with hands-on support or custom execution processes that best fit your business.
In this way, you can choose exactly what your business needs and create your own individual services PUZZLE. Together, we will develop a tailor-made offer for you that is exactly adapted to your specific requirements.
For an individual presentation or more detailed information, please contact us.