Is my marketing team optimally staffed and working efficiently?
You would like to reorganize your marketing team in order to optimize roles and responsibilities? Or maybe you do not have a marketing team in place but are in dire need of experts who will handle your brand and communication tasks? And what about processes and procedures – do you still need to create and develop them, or do you perhaps need to restructure those that you have?
We can help you with all these challenges! We can support you in optimizing your processes as well as write and introduce necessary procedures. In addition, whatever your business structure or industry is, we can work with you to optimize your marketing structures and streamline teams by making them even more productive and efficient.
Our consultancy services are custom-made to your specific requirements, no matter if you are experienced in this field or not. Just let us know what your challenges and goals are, and we can take over the rest and optimize your organization.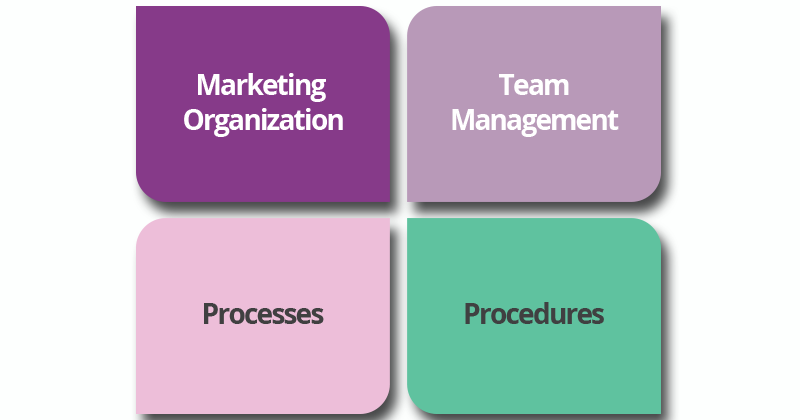 The ORGANIZATION segment of our consultancy business is structured into 4 main domains:
Marketing Organization
Team Management
Processes
Procedures
All these areas include key integral parts that are adapted and made-to-measure to your specific business challenges. They can cover all organizational aspects that your business may require.
Each domain contains multiple parts that are defined and set up for each client separately and flexibly, depending on your unique needs. They can contain several activities from different domains, as shows the example below:
Creating a Marketing organization
Optimization of roles within a Marketing team
Writing and implementation of Marketing procedures
Definition and implementation of communication processes etc.
All you have to do is just to tell us what your plans, challenges and questions are. Based on your inputs, we will develop your individual services Puzzle that contains carefully selected parts of the above-mentioned key organization domains. With that, we will able to develop your unique organizational model, process or procedure. Moreover, the listed domains are overlapping, and you can combine different activities from different domains for all your business challenges to be addressed.
In this way, you can choose exactly what your business needs and create your own individual services PUZZLE. Together, we will develop a tailor-made offer for you that is exactly adapted to your specific requirements.
For an individual presentation or more detailed information, please contact us.